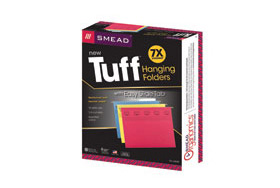 Customer: National Office Products Manufacturer
Challenge: Develop a game-changing design for an industry standard
Smead, a national office products manufacturer, wanted to introduce a game-changing improvement to the traditional green hanging file folders that have been an industry mainstay. Rather than the standard plastic tab that inserts into slits along the metal rods, Smead wanted to offer a sliding tab that could move along the folder without having to be removed and reinserted.
Approach: Use collaborative design process and leverage in-house tooling capabilities
Engineers from Intek and Smead worked collaboratively, leveraging our expertise in materials and in-house tooling capabilities.  Various prototypes were developed and tested before finalizing the pioneering new design. Several key factors were considered including material properties, profile design, and tolerances required by the customers' fabrication and packaging equipment.
Result: Product Chosen "Best Business Product"
The new, game-changing sliding tab reinforced Smead's position as an innovative market leader in the office products industry. The jointly designed sliding tab was voted the "Best Business Product" by the National Association of Professional Organizers (NAPO) at its 2010 Annual Conference & Organizing Exposition. The product is also provided on large returnable reels to eliminate packaging costs and reduce process waste.
Have a Question?
We'd love to hear from you!