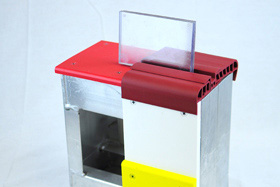 Customer: Hockey Dasher Board Manufacturer
Challenge: Create an impact-absorbing dasher board cover to reduce player-injury risk
A company that supplies dasher boards to 75% of National Hockey League (NHL) arenas, wanted to create an impact-absorbing cover for the tops of boards which would reduce the risk of injury without sacrificing the aesthetic appeal of the dasher boards. The project presented a number of challenges, including:
Complexity. The product called for custom plastic extrusions with multiple hollow channels to absorb impact. It also had to be modular so it could work in any NHL rink while affecting game play as little as possible.
Performance. The product required a flexible, colorable plastic that performs well in cold conditions.
Speed. The company needed the product for a fast-approaching trade show and the upcoming NHL season.
Other plastic extruders had passed on the product due to its size and complexity.
Approach: One-day Kaizen event provided almost-immediate solution
Needing to quickly design the product and produce a prototype, Intek held a one-day Kaizen event, a collaborative all-day brainstorming session that resulted in an almost-immediate solution meeting Intek Plastics' manufacturing requirements and the customer's performance needs. Intek's expertise in plastic extrusion quickly led to a successful prototype, allowing mass-production to begin within the client's tight time frame.
The product, called SoftCap, was extruded with Santoprene, a flexible, colorable, plastic elastomer that performs well in the cold. A friction-reducing coating was also applied to improve performance. In addition to absorbing impact, the design evolved into a four-piece modular system that compensated for rink variations, facilitating installation in any NHL arena.
Result: SoftCap mandated in all NHL arenas because of improved impact absorption
The product underwent extensive testing by the NHL, which found that SoftCap absorbs impacts 96% better than the previous material. The league expects it to significantly reduce head, chin, elbow, and other injuries, and has mandated the use of SoftCap in all of its arenas. The first team to install the product was the New York Islanders, and several other orders soon followed. Currently, the product is marketed worldwide and is available to college, high school, and recreational hockey rinks.
Have a Question?
We'd love to hear from you!