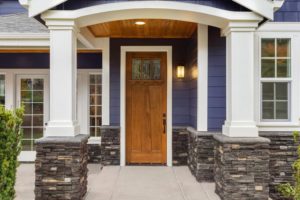 Customer: Entry Door Frame Manufacturer
Challenge: Create easy-to-assemble and maintain, attractive door frame
A major manufacturer of entry door frames wanted to create a product that looked good and was easy to assemble and maintain. The design required separate vinyl cladding profiles for the jamb and casing components, and presented three major challenges:
The proposed design relied upon the installer to properly hand-caulk the joint between the casing and the jamb, which added objectionable labor and material costs and did not ensure consistent performance against water infiltration;
The desired assembly process resulted in exposed fastener heads on the casing cladding, which was aesthetically undesirable; and
Breaching the vinyl cladding with fasteners created a long-term product performance concern.
Approach: Develop exterior casing profile with flexible sealing fin and fastener cover
Intek Plastics worked closely with the customer to design an exterior casing profile with a flexible, co-extruded sealing fin and a unique fastener cover. The flexible fin maintained compression against the jamb, preventing water from leaking through the joint and eliminating the need for hand-caulking. The fastener cover, which was designed to be raised up during assembly and then snapped over the fastener heads once the casing had been nailed to the jamb, hid unsightly nail heads and provided a weather-resistant shield for the areas where the vinyl cladding had been breached.
Result:  Aesthetically pleasing, weather-tight door frame
These innovative design features afford homeowners the beauty of a freshly painted wood frame, complete protection against water damage, and the best long-term performance on the market.
Have a Question?
We'd love to hear from you!