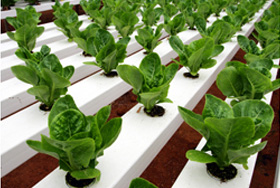 Customer: Agricultural Products Distributor
Challenge: Reduce lead times and inventory levels
Companies sometimes assume they can save money by sourcing products overseas. Often the savings in purchase price are out-weighed by the added costs of extended lead times, inflated inventory levels and poor quality. An agricultural products distributor contacted Intek Plastics after experiencing some of these issues first hand. It was searching for a domestic supplier to help reduce lead times and inventory levels without increasing overall product cost.
Approach: Redesign product using a combination of materials
The customer provided Intek's engineers with samples of the current product, consisting of an extruded hydroponic growing tray and cover with injection molded end caps. By gaining a deep understanding of functionality and performance requirements, Intek's engineers were able to suggest design changes to improve the fit between the tray and end caps. The most difficult hurdle was meeting the customer's aggressive price target since the application required expensive NSF-certified material.  Thinking "outside the box," Intek's engineers specified recycled plastic on the tray and cover with a thin capping on the contact surfaces made from the expensive NSF-certified material to reduce costs. They also researched, specified and sourced the end caps with a local injection molder to assure the entire system fit and worked well together.
Result: Reduced lead times and inventory levels with better service
The customer has experienced significant benefits from much shorter lead times and smaller minimum order sizes. There's also the cost advantage of using recycled material and the marketing benefits of being able to state the system is made in the USA.
Have a Question?
We'd love to hear from you!