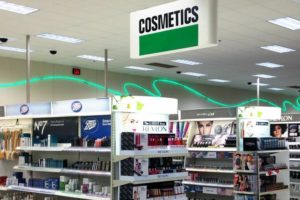 Customer: Point-of-Purchase Display Manufacturer
Challenge: Create a more efficient standard for in-store signage brackets
A major national retailer selected an Intek Plastics' client, a manufacturer of POP displays, to provide in-store sign holders. The project specifications called for brackets that would attach to various existing store fixtures. Our client came to us with a proposed design that was composed of several injection-molded plastic parts. It required on-site assembly, wasn't easily adaptable to multiple shelving-post thicknesses, and was time consuming to install.
Approach: Replace thumb-screwed bracket with a friction-fit clamp
One of our engineers worked with the display manufacturer to redesign the signage bracket. The improved design incorporated a simple friction-fit clamp in place of the original thumb screw device. The clamp profile was extruded from a material with enough rigidity to tightly grip the store shelving, and the clamping surfaces featured multiple co-extruded barbs with just the right friction properties to allow the brackets to be quickly installed and removed.
Result: Quick-grip display bracket installs faster without breakage or missing pieces
By eliminating the multi-piece clamp and thumb screws, our one-piece design solved several problems. There were no moving parts to break or be misplaced, and the sign holders could be installed in far less time than the original thumb screw could have been. The simplicity and efficiency of the plastic display fixtures will be multiplied in over 1,200 stores across the United States.