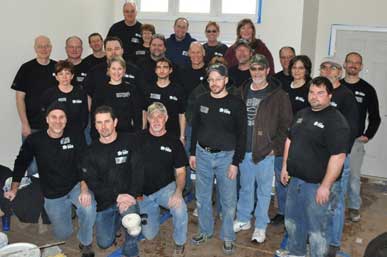 HASTINGS, MN. (March 5, 2013) –Intek Plastics partnered with Habitat for Humanity on February 28th. We had 26 associates assisting with the finishing work on four townhomes in Cottage Grove, MN. This was our first time partnering with Habitat for Humanity and based on the great success we had, it won't be the last. In addition to volunteering, Intek also donated $1,000.
"We are proud to partner with Habitat for Humanity of the Twin Cities as it will serve the community in a very meaningful way.  I am grateful our employees had the opportunity to be part of this great cause" said Intek Plastics COO, Steve Glienke.
About Intek Plastics
Intek Plastics (www.intekplastics.com) is a privately held company that engineers, extrudes and fabricates custom plastic extrusions for medium-to-large OEM's requiring unique, high performance solutions. Intek's scale and sophistication allow it to serve any industry with world-class manufacturing including construction, retail point-of-purchase displays, window and door manufacturing, commercial refrigeration LED lighting, agriculture, recreation, appliance, telecommunications and transportation. Intek and its 200 associates create value for customers through a commitment to continuous improvement, lean manufacturing methods and investment in materials and process technology. Founded in 1961, Intek is headquartered in Hastings, MN and also has a location in Hawthorne, NJ.
About Twin Cities Habitat for Humanity
Our mission is to eliminate poverty housing from the Twin Cities and to make decent, affordable shelter for all people a matter of conscience.  An award-winning nonprofit housing developer, Twin Cities Habitat is committed to building the quality of life, health and economic prosperity of the region by producing, preserving and advocating for affordable home ownership – because homes and families are the foundation of successful communities. Visit Us >